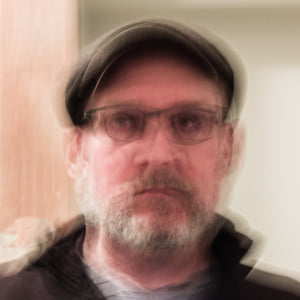 I grew up in 70's and 80's in the Adams Morgan Neighborhood of Washington D.C.
Early on I'd be most likely found exploring the woods in Rock Creek Park. I was also interested in art and was lucky to live so near Washington's art galleries and museums. I showed some natural aptitude in Art, but was crazy about playing sports especially baseball. My hope was to play in the big leagues but a bad back and a torn up knee stopped my career after pitching for Virginia Tech.
I left Virginia Tech with a degree in marketing and hoped to become a "successful" business person. After a year in my first job I realized that this wasn't the path for me but didn't know what my path should be so I decided to take a journey and think about what I wanted to do.
I quit the job in early 1991 and used my savings to pay for a solo bicycle trip from San Francisco back to Washington D.C. where I visited some amazing natural places most notably: The California Coast, The Grand Canyon, Southern Utah. I had brought a cheap 35mm point and shoot camera and photographed along my route. I'd mail the rolls of film back to my mother in D.C. and she'd have them printed. I remember getting good feedback, some people said I should become a photographer. I remember saying that the pictures were there I just found them and snapped the shutter.
I was encouraged to pursue photography but for some reason I take a class in Graphic Design, and really liked it so I took more. I intended to take some classes and then go to graduate school in design but put that off because It was an exiting time for computer graphics and I soon found myself on the cutting edge, and didn't need a degree to get all the work I could handle.
While taking graphic design classes at UDC, I took a handful of photography classes and read all the books in the D.C. Library on photography and upgraded from my sisters old Nikkormat to a N90. Being a gear head, I soon had a stable of camera's including a Mamiya C330, and 4x5 field camera and I turned a spare room into a Darkroom. Looking back, the photos weren't that great but it was fun and I was learning.
By the late 90's I had a 9-5 job as a graphic designer/illustrator and my interest photography took a back seat to bicycle racing. After a few years of racing my back problems reappeared and I wasn't able to do the training needed to compete so I gave that up and focused more on my job which had become more demanding because I was caught up in the internet boom. When the boom ended I found myself with some spare time so I took up painting.
Not long after I met my future wife Rebecca and traveled with her to Ecuador, which was amazing and revived my interest in photography. She traveled the world for her job so I wound up tagging along on a few trips of her trips. Digital photography was just getting serious and in 2004 I bought a Nikon D100, this really got me back into photography because it combined my interest in computer graphics with photography. By 2007 Rebecca and I were married and she had long-term assignment in South Sudan. After some fits and starts in 2008 I wound up getting put up in a house in a beautiful area on the outskirts of Nairobi, South Sudan was deemed an unaccompanied post.
Kenya is a dream location for photography, I bought an old Land Rover and explored many amazing places. Rebecca's assignment ended in 2010 and we had the opportunity to travel East and Southern Africa in an old 1977 Range Rover that I had customized for the trip. The photographic highlights were Namibia, the Western Cape of South Africa, and Northern Mozambique.
Once we returned to D.C. I found a job as a web designer/developer working in the U.S. Census Bureau. Visually communicating their statistical information was both challenging and rewarding, but in 2014 Rebecca got an opportunity for a long-term assignment in Manila, Philippines which was too good to pass up so we packed up again and moved to Manila.
I'm now living with her in Makati which is the financial district of Metro Manila. I've been focusing on editing all my photos from Africa, and taking more photos here and in nearby areas. I'm also just getting started with what I hope will turn out to be a successful long-term project photographing Street Basketball in the Philippines.